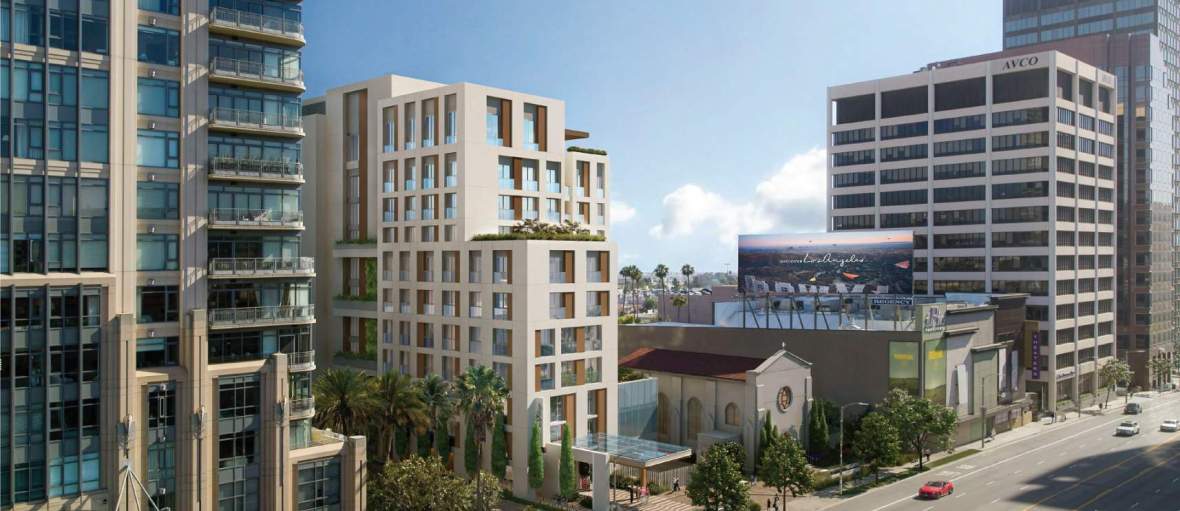 12-story senior housing project clears a hurdle in Westwood. It would replace Westwood Presbyterian Church's parking lot.


A Texas-based real estate firm's plan to bring new senior housing to Westwood has cleared a key hurdle.


May 18th, the Los Angeles City Council voted to adopt a sustainable communities environmental assessment (SCEA) for the proposed Belmont Village development at 10822 Wilshire Boulevard. The project, which is being developed by the eponymous Houston-headquartered company Belmont Village, would consist of a 12-story building featuring:


• 53 studio and one-bedroom apartments for independent seniors;
• 77 units of assisted living apartments; and
• 46 rooms for memory-care residents with cognitive impairments.
• Parking for 184 vehicles is also planned within three below-grade levels.


The proposed development would also include a separate two-story building, to be located at the southern edge of the property facing Ashton Avenue, which would serve house administrative offices for Westwood Presbyterian and a preschool.


GMPA Architects is designing Belmont Village, which would be a contemporary 153-foot-tall high-rise, clad in materials including metal and cement. Upper-level setbacks are proposed to reduce the building's mass, while also creating space for open-air amenity decks.


According to an environmental report published last year by the Department of City Planning, construction of Belmont Village is expected to begin by September 2021, with completion to follow sometime in 2025.


The vote by the City Council to adopt the SCEA, thereby exempting the project from undergoing a full environmental impact report, is separate from consideration of project entitlements. A zoning administrator's hearing for requested eldercare and conditional use permits is scheduled for June 9, according to the project's case filing.


The planned site of Belmont Village – currently the parking lot of Westwood Presbyterian – sits two blocks east of the intersection of Wilshire and Westwood Boulevards, where a new subway station is being built as part of third and final leg of Metro's Purple Line extension.