Signed contracts to buy existing homes in the U.S. rose in January in the largest monthly increase since June 2020, as the housing market sets course for rebound mode.
The National Association of Realtors' index of pending home sales climbed 8.1% to 82.5 in January, higher from the projected estimate of 1.0% by Bloomberg economists, according to data the group released on Monday. On a yearly basis, however, pending transactions plunged by nearly 24%.
The measure, a leading indicator of the housing market's health, highlights how much the market has reversed this year in the wake of slowing home-price appreciation and higher mortgage rates.
"Buyers responded to better affordability from falling mortgage rates in December and January," NAR chief economist Lawrence Yun said in a statement.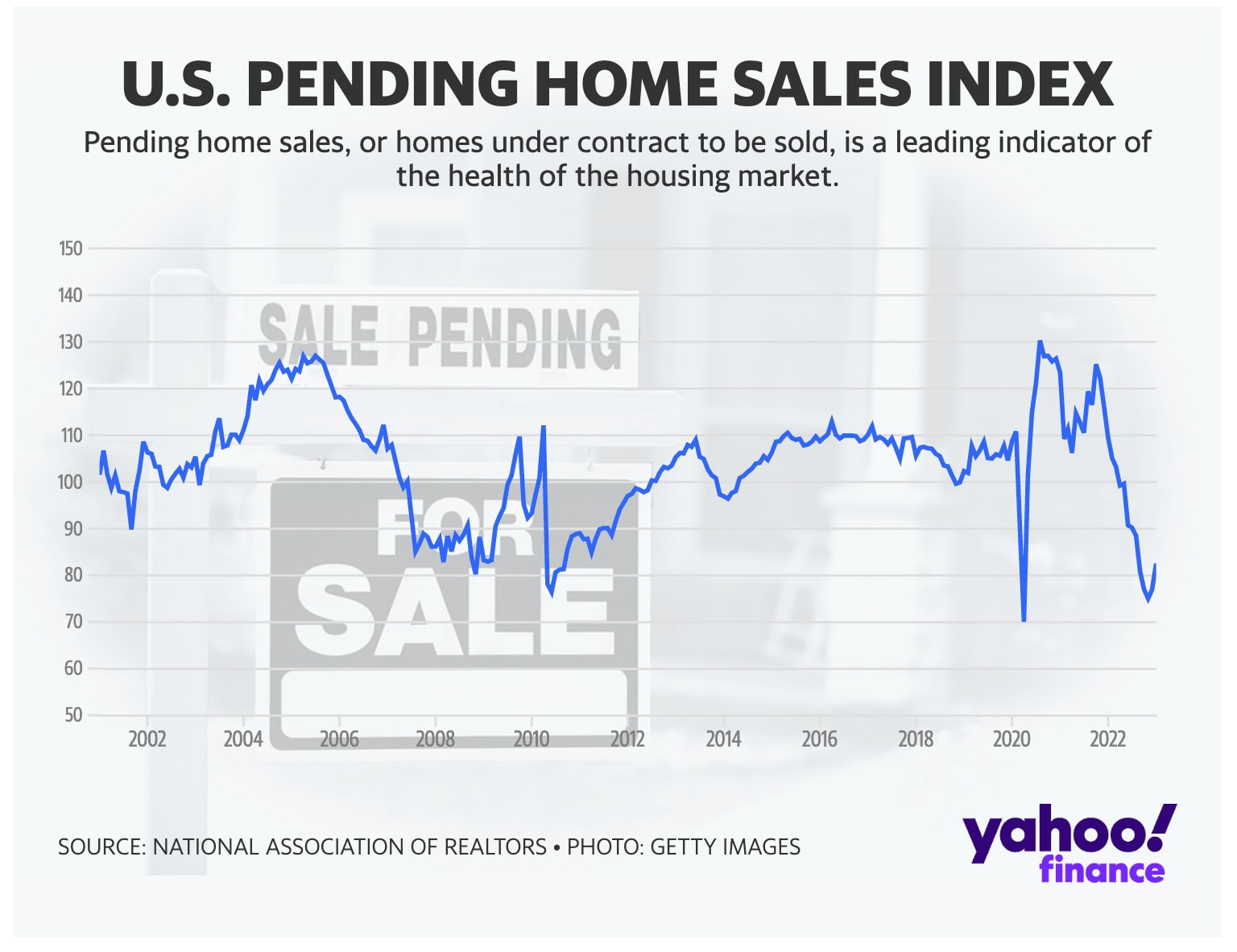 According to NAR, the group anticipates that the economy will remain robust and add more jobs throughout this year and next year, with the 30-year fixed mortgage rate headed for a downswing to an average of 6.1% in 2023 and 5.4% in 2024.
Yun said he expects annual existing-home sales to drop 11.1% in 2023 to a total of 4.47 million units before jumping 17.7% in 2024 to a total of 5.26 million units. NAR projects new-home sales will fall 3.7% year-over-year in 2023 before growing 19.4% in 2024.
"Home sales activity looks to be bottoming out in the first quarter of this year, before incremental improvements will occur," Yun added. "But an annual gain in home sales will not occur until 2024. Meanwhile, home prices will be steady in most parts of the country with a minor change in the national median home price."
Contract signings increased in every region. Pending sales increased 6.0% in the Northeast, 7.9% in the Midwest, 8.3% in the South, and 10.1% in the West. Pending home sales dropped in all regions compared to one year ago.
"An extra bump occurred in the West region because of lower home prices, while gains in the South were due to stronger job growth in that region," Yun added.
These figures occurred during the month that mortgage rates stabilized, the labor market remained resilient, and inflation slowly eased. The 30-year fixed mortgage rate headed on a downswing, reaching near 6% at the end of January compared to mid-November last year, which peaked at 7%.
"When rates were seesawing up and down in fall, many buyers dropped out because they could wake up the day after finding their dream home to a three-digit increase in their potential monthly payment," wrote Redfin Economics Research Lead Chen Zhao, in a statement. "Now they have a better sense of how far their budget will go in which neighborhoods and which homes they can afford."
Separately, other data shows that new home sales are climbing while existing home sales are falling. The reason: More homeowners of previously owned homes are sitting on cheaper mortgages, causing them to be hesitant to cut their selling prices.
Builders, meanwhile, are pulling out tools from their toolboxes to help move inventory. And it appears to be working. For example, homebuilder PulteGroup (PHM) offers a 30-year fixed rate as low as 4.25% this quarter and plans to ramp up the pace of new builds.
"Builders are not only using incentives to bolster sales, such as rate buydowns, paying points and offering price reductions, but also offering upgrades on appliances and other quality features, essentially giving the buyer more home for the same amount of money that they had originally contracted for," Odeta Kushi, First American Deputy chief economist, told Yahoo Finance in a statement.
Written by Dani Romero